WHY LIVE IN MAINE?
Maine offers something for everyone. This breathtakingly beautiful state has inspired writers, painters, poets – and one special outdoorsman – our company founder, Leon Leonwood Bean. Here in Maine, you'll find the nation's tastiest blueberries, lobsters, and craft beers—and the most iconic boots ever made. No wonder it's frequently listed as a top place to live, work and play. Come see why.
MAINE
WORTH MUCH MORE THAN ITS SALT
There's just something about Maine—this state of extraordinary beauty—where L.L. Bean firmly planted its roots (and Bean Boots) more than a century ago. Here, you'll find miles of craggy coastline, thousands of freshwater lakes, lush forests and spectacular mountains, providing the perfect backdrop for fun and adventure before, during and after work. Ask any L.L.Bean employee what they do on weekends, and chances are you'll hear things like gardening, stand-up paddleboarding, hiking or camping. It's truly a state of outdoor adventurers, foodies (yes, we have more restaurants per capita than NYC) artists, entrepreneurs – and maybe even you?


MAINE: WHY NOT CALL IT HOME?
With our bold coastline, endless opportunities for outdoor activities, and rich cultural destinations, L.L.Bean employees have a pretty sweet place to live. Here are just some of the places we call home.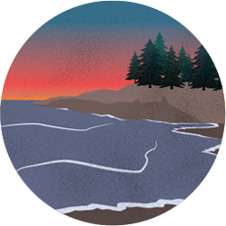 WENDY K.H.
Manager, Direct Channel Merchandise
HOMETOWN
Georgetown, Maine
RELOCATED FROM?
Bahamas
COMMUTE?
40 minutes (catch up on world news and listen to Spotifiy)
WHY GEORGETOWN?
It's a fabulous 300-year-old island community at the mouth of the Kennebec River and accessible by bridge. We live a half-mile from the ocean, and I have plenty of space for my three gardens, four orchards (cherry, peach, apple and blueberries) 16 chickens and two teenagers. I can bike for 30 miles and hardly ever see a car. I paddleboard, swim, walk, and do just about every other activity you could think of. Plus, it's just an hour's drive to the mountains where I ski and teach adaptive skiing every winter weekend.
FAVORITE ACTIVITIES?
Biking, gardening, cross-country skiing, walking and spending time with my family.
WHAT WOULD YOU SHARE WITH PROSPECTIVE L.L.BEAN EMPLOYEES CONTEMPLATING A MOVE TO MAINE?
While I'm a slave to my car to get on and off island, and the nearest store is 10 miles away, the beauty that surrounds us, the great school, and the community make my commute to L.L.Bean well worth it.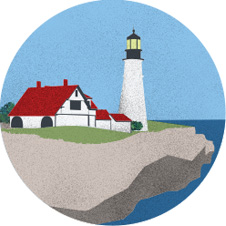 JULIE B.
Creative Director,
Creative
HOMETOWN
Portland, Maine
RELOCATED FROM?
Brooklyn, NY in 2015
COMMUTE?
20 minutes
WHY PORTLAND?
It was a great option for us, coming from a big city, and less of a culture shock if we had chosen a more suburban or rural setting. I love that we can still walk everywhere and just grab dinner or a cup of coffee.
FAVORITE SPOTS?
We're very lucky that we live on the "peninsula" and can walk almost anywhere. Our favorite spots are Pai Men Miyake, Boda, Tandem Coffee and the farmers' market in Deering Oaks. We (especially our two-year-old) also love the Eastern promenade for its great playground and breathtaking view.
WHAT WOULD YOU SHARE WITH PROSPECTIVE L.L.BEAN EMPLOYEES CONTEMPLATING A MOVE TO MAINE?
We've only been here a year and have only been though one Winter. It was cold, for sure, but not overwhelming compared to what I had experienced in New York. I'm grateful to work for a company that sells the best winter outerwear and gear possible so no matter what the season brings, I know that my family I will be equipped properly!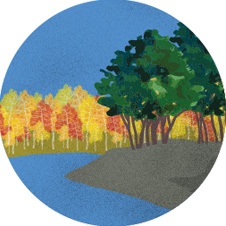 BILL Y.
Retail Manager, Outdoor Discovery Schools
HOMETOWN
Durham, Maine
RELOCATED FROM?
Cumberland
COMMUTE?
I commute by bike as long as the weather holds out. It's a nine-mile trip. Last year it was mild enough to ride in and out right through December. The rest of the winter, I keep my nordic skis in the car and ski on the way to work or on the way home.
WHY DURHAM?
Durham is a small mostly rural town a few miles inland from the coast, with rolling hills and a nice mix of woods and fields. I love the quiet country life with my family on our 30 acres. We wanted room for our two alpacas, three goats, plus chickens, cats and rabbits, and some privacy, too.
FAVORITE SPOTS?
Bradbury Mountain, Streaked Mountain and Casco Bay
FAVORITE ACTIVITIES?
Biking, climbing, paddle boarding, cross-country skiing, working on the farm and in the woods, playing and listening to music.
WHAT WOULD YOU SHARE WITH PROSPECTIVE L.L.BEAN EMPLOYEES CONTEMPLATING A MOVE TO MAINE?
The number one reason to live in Maine is the outstanding quality of life. It's hard to beat if you love the outdoors, being active and having four seasons. All of that makes it a wonderful place to raise a family.
Search & Apply for Jobs in Maine